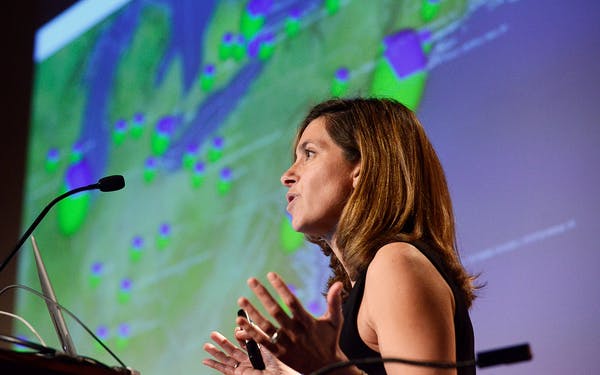 IMCI welcomes Lauren Ancel Meyers
I am very excited that Lauren Ancel Meyers will be speaking to us about her work today as part of the IMCI/IBEST seminar series. Lauren is a highly decorated researcher whose thinking around network-based disease modeling has been extremely influential. During the current pandemic, she established the COVID-19 modeling consortium at the University of Texas to bring together modelers, physicians, scientists, and even a few mathematicians like me to understand and respond to the pandemic at all scales.
Lauren generously shares her deep understanding of disease dynamics with decision-makers at all levels, clearly explaining the complex analysis that underlies the models and distilling actionable triggers. Her tireless leadership has been a great boon to my own work as I have learned from her daily updates on news and research as well as regular short talks from leaders in the fields of epidemiology and public health. She is truly one of the great scientific leaders of our generation, and she is committed to using her talent and her platform to help people live longer and healthier lives. Don't miss this chance to hear her speak today!
Jennifer Johnson-Leung is a mathematics professor who uses models to explain and understand complex systems and to bring abstract concepts into focus for a wide audience.